Innovative and Collaborative Cincinnati Video Production Company
Offering Video Production Services to both the Cincinnati, Ohio area and across the globe.
Cinevita Films is an innovative and collaborative video production company that is dedicated to producing videos that are visually striking, emotionally engaging and strategically effective for the companies we serve. Our unique and strategic approach to video production allows us to stay on the cutting edge of industry trends. Our company takes a proactive approach in developing concepts that will continue to separate you from your competition and connect you with your customers. Our goal is to use videos to effectively communicate the brand and vision of the companies we partner with.
Cinevita Films is a turn-key video production company and we handle all aspects of production including creative development, scheduling, scripting, production, post production, motion graphics and delivery.
Video has the power to connect with your customers in a way nothing else can, whether through web videos, corporate video, or tv commercials.
We believe that collaboration is the key to success and we have assembled a diverse team of leading experts in each respective field of production. Our dedication allows us to deliver
inspirational works of art that engage your clients and ultimately delivers results. We believe that a video is most successful when it is both visually striking, emotionally engaging and strategically effective.
Before we begin any project, we work with you to develop a creative concept that will connect with your audience and be strategically effective. Pre production is often considered the most necessary and import step in video production.
Our unique approach to commercial video production allows us to find and communicate the stories that each of the companies we work with has within their walls. Our videos are both visually beautiful and emotional engaging.
The stories take shape within our edit suite, molding each project into a video that is specifically targeted to your audience. We offer a wide array of video finishing services to take your story through the final stages of the process.
Our team can deliver a wide variety of motion graphics videos including kinetic typography videos, 3D animations, and the ever popular explainer videos. Motion graphics can integrate beautifully into live action video, or act as stand alone videos.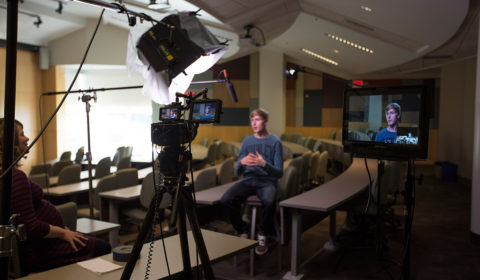 Cedarville Nursing Department from Cinevita Films on Vimeo. The above example is from a series of co.
Read More
A unique approach yields a unique result
Our team at Cinevita Films believes that you must upset the status quo in order to achieve an uncommon outcome. Corporate video production is constantly changing in terms of techniques, trends and technology. We pride ourselves on breaking the mold and bringing a unique approach to video production. As a result, we are constantly pushing the boundaries on what is thought to have been possible as well as upgrading the equipment and technology we use to tell the stories of the companies we work with.
Good video content is derived from a solid and comprehensive understanding of your business practice, vision, and goals. Because of this, we go to great lengths to first understand where your business is coming from, in order for us to create an end product that is both visually engaging and effective.
For us, it is not enough to simply develop a visually beautiful video. If the content does not connect with your target audience, then the video has not accomplished its primary goal. True creativity in corporate video production is finding a way to both engage and connect with your customer, first on an emotional level though our stories and visuals.
We couldn't be happier with the results Cinevita Films delivered. We weren't entirely sure what to expect, as this was our video production experience, but they were able to guide us through the process and deliver a product that we are thrilled with.
What most impressed me with Cinevita Films was the speed at which they worked. The day of production was a lot of fun, and it was great watching them work. If you are in need for a good video production company, I would absolutely recommend them.

We were very pleased with the finished product that Cinevita Films delivered. Bradey was extremely helpful in the process. We were very happy with the time they took to understand our company and I believe that shows in the finished video.
Our video is being used in a variety of ways. We play it at sales meetings, it's being shown online, social media and we are now considering producing a TV commercial. I've been very pleased with the response to our video from customers.
If I'm being honest, at first I was worried about recognizing a return on investment in the area of video, but I can honestly say that we have seen an increase in business as a direct result of the video that Cinevita Films produced.
Get in touch with our team
Bring your ideas to life. Our creative team thrives on finding and cultivating the story every business has to tell, and communicating that story in a beautiful and engaging manor. Just as we believe collaboration is the key to success, we believe that your story is best told once we have a comprehensive understanding of your goals. Let us take the time to discuss your project and see if we are the right fit for you. We know you have a lot of options as your search for video production companies, so we thank you for considering our team.
Cinevita Films is an innovative and collaborative Cincinnati video production company that is dedicated to producing videos that are visually striking, emotionally engaging and strategically effective for the companies we serve.